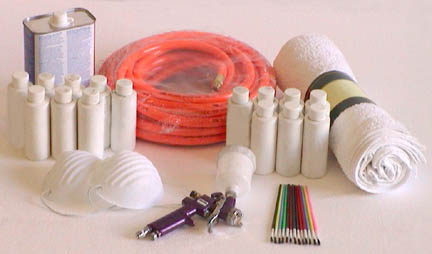 INTRO PAINT TOUCH UP
It is safe to say 90% of road vehicles need some kind of paint touch-up or repair. With Superior's paint touch up kit, you are ready to fill in the niche!
Superior's touch up kit gives you the micro paint repair process for repairing scratches, chips, nicks, rust spots and more.
This system comes with:

SYSTEM & MARKET INFORMATION

Average time per repair....................5 - 20 minutes
Wholesale pricing..........................$15 - $50
Retail pricing.................................$45 - $125
INTRO PAINT TOUCH UP PACKAGE.................................$499

10% OFF SUPPLY ORDERS!

15 premixed colors
Airgun
Line
Filters
Towels
Porta-air tank
Chemicals