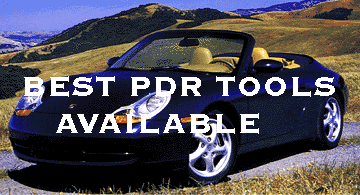 Find out why companies like FERRARI and MERCEDES both choose SUPERIOR for the best PDR Tools and Equipment available.

At Superior, we offer a variety of specialty tools and tool packages, at very competitive prices. Whether you choose an Intro set or Pro Tool Package, both will provide you with the basic neccesities of a PDR Tech: 1) Strength 2) Quality 3) design for Access. Our proprietary tools are designed by our very own PDR Tech Team, then forwarded to a metallurgist for proper heat treating and final design.
You will enjoy the benefits of a continuing supply of new and innovative tools designed for the requirements of vehicles in the years ahead. Feel confident investing your time and money with a company that's dedicated to your success. Whatever car you attack, you'll have the proper tool to get it done right. Which means Superior quality repairs, satisfied customers and a great reputation.
Our tools come in a variety of thicknesses, with various tips and configurations to allow you to repair minor and major damage you wouldn't be able to achieve with any other PDR tools.

SUPERIOR PDR TOOL FEATURES
Heat treated surgical grade stainless & spring steel for maximum strength
Designed for proper access (door bracing, hood, roof etc)
Tools that are precision manufactured by professional CNC machinists
Tools that are corrosion resistant
Tools that are 100% Guaranteed for Life
Choose SUPERIOR for your PDR tool and equipment needs.
The company that not only manufactures tools in-house, but uses them every day at dealers, rental agencies and more!