1(888)992-3464 USA
1(949)788-0555 INT'L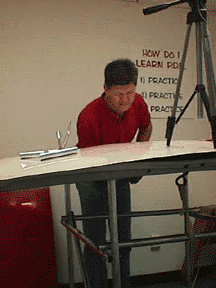 "Is training important?
Can't you just simply buy tools and start "popping" out dents?"

Paintless Dent Repair is the fine of art of shaping and moving metal to restore vehicles to previous, undamaged condition, without the use of paint, primers or fillers.
If the PDR craft was as simple as buying tools, there would be informercials for PDR Tools every Saturday night with a surplus of PDR Technicians everywhere! But wait..there's a shortage of PDR Techs, right? And the money Is good, right?.., so PDR must be an art that requires special instruction.

We at Superior stress that regardless of tools, TRAINING is paramount to success in the fine art of Paintless Dent Repair.
We guarantee that upon completion of the course, you will be able to perform PDR. This guarantee is a money back guarantee

The Superior PDR Training Course covers
1) Basic PDR Theory
2) Safety
3) Reflective Reading
4) Accuracy
5) Tool Selection
6) Pressure
7) Access
8) Foreign, Euro, Domestic Vehicles
9) Drill Free PDR
10) Hail Repair
11) PDR Total Marketing Program(if requested)
12) Natural vs. indoor lighting
13) Creases
14) Bodyline dents
15) Wetsanding
16) Soft vs. sharp damage theory
17) Magnification
18) "Artist Ethic".. striving to be the best
19) Oversize repairs
20) Finishing a dent to completion
and more...

All training is conducted on real vehicles in real repair situations, by seasoned veteran PDR Technicians who will instruct you with the latest and most professional methodology of Paintless Dent Repair. The Superior Method is by far the fastest and most efficient way to Paintless Dent Repair.
Our students go into the field fast, and confident they can remove dents properly.
Come see why we produce the industries' finest PDR Technicians, who are true artisans of metal!
© 2000 Superior Auto Institute. All Rights Reserved.
1-888-992-3464 1-949-788-0555