PDR Training
PAINTLESS DENT REMOVAL | REPAIR TRAINING
Would you prefer to learn the entire process of Paintless Dent Repair from a school on one vehicle....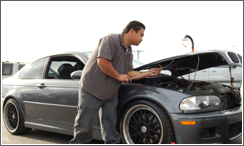 Get real world experience on multiple vehicle types with your Paintless Dent Removal Training, not just one or two..

We specifically positioned TWO of our schools at large dealer-only auto auctions (how else can a school have access to 1000's of cars to instruct on?). Think about it- if you want to learn the art of Paintless Dent Removal one time, and completely, can any other school give you this comprehensive experience? No.
We give you the golden opportunity to repair cars of all makes (Mercedes, Porsche, BMW, Ford, Volvo and more) so that you actually put your hands on real cars, in a real Paintless Dent Repair work environment. If you are looking for a classroom environment, chalkboards, film projector and a room full of students, seek other Paintless Dent Removal schools.
If you learn best by doing something hands on, and want real world, private ONE ON ONE instruction, check us out. We don't just emphasize one on one Paintless Dent Removal Training, We GUARANTEE IT.


CLIENT TESTIMONIALS
Superior was more than I expected for my training- Full attention, a 2 hour business dinner covering all my questions, and excellent hands on training on 10 cars I think, or maybe it was more. Thanks again guys.
Lyle Peterson, St Charles, MO
The Pretraining, the auction, and hard work made for a great time. Appreciate it all. Please stay in touch!
Steve Shultz, Phoenix, AZ
I truly appreciate the gameplan and marketing information you gave me, and know this will be exactly what is needed to reach my goals of early retirement.
Chris Peterson Butte, MT
MORE TESTIMONIALS
Today we worked on a Mercedes, an F150, a BMW 3 series, a Camry, Chevy Truck and Porsche! I feel completely confident going home with this experience and starting my business. This is great!".
Matt Stuart, a recent trainee
We at Superior believe words are cheap. We don't conduct training in classrooms or sterile, laboratory-like facilities with chalkboards and speeches, we teach simply by raw example.


In our Paintless Dent Removal courses, You will see and put your hands on ALL of the standard vehicle sub-types.
Our Paintless Dent Removal Training covers the ever evolving airbag locations and safety issues, as well as general panel access with sedan specific personalities
2) TRUCKS
With Trucks growing in popularity year after year, it is crucial to instruct new Paintless Dent Removal Techs on the unique characteristics of trucks, from bed sides, tailgates, extra cab sections and more. Trucks can pose some of the most difficult PDR possiblities, and we cover it.

3) SPORT UTILITY VEHICLES

4) CONVERTIBLES
Convertibles offer access in the most unusual places, and also inhibit access in other more common areas. We also cover dual pane glass on certain models (may break when pressure is applied!!)

5) MINIVANS
MINIVANS are generally very similar to SUV's, but the sliding doors are a thing of their own, and the rear hatch/door also poses unique access and knowledge to perform Paintless Dent Removal. Proper Paintless Dent Removal Training on Minivans is a must!

6) SPORTSCARS/COUPES
COUPES are generally very similar to sedans, but the quarter panels are typically more challenging than the sedan. We've got you covered with our Paintless Dent Removal Training courses on the coupes and sportcars.

We now offer a course option for 100% Auto Auction ONSITE training at both our Southern and Northern California Auction locations. You learn on the job, in a REAL WORLD environment.

No classrooms, no theories...Pure PDR in raw form, in the natural element.

Average gross income per repair

$100.00

Average time per repair

10-35 minutes

Average number of repairs per Day

3

Average gross income per workday

$300.00

Average gross income per week (based on 5 days)

$1,500.00

Average gross income per year (based on 52 weeks)

$78,000.00

Door dings, creases (vert. & horiz.), bodylines, compound curves, sharp dents, smiles, ridges, lip bends and 100% restricted access dents

Drill vs. non-drill options- the drill advantage!

Paint Heating process

Boards vs. Light Reading

Hard line and Fog line Reading

Texturizing: Performing 100% perfect dent repair

Airbags-where to go and not to dare tread!

Gluepulling for hail, oversized damage reduction and blocked access solutions

Aluminum panel repair process

Equipment selection & usage

Personal safety

High and low spot identifcation

Instructor Demonstrations of mild versus intense damage Paintless Dent Repair techniques

PDR Accessory usage

Superior Dent Stress Relieving

VIDEO your Training (your option-we allow it!)

Ferrari wet sanding technique

1,2 and 3 Week post training Business Itinerary
Marketing and Business planning specifically tailored to your demographics, resources and goals (there is no single "cookie cutter business plan or strategy that will work for everyone)-You will have a formal business consultation with Brian Jump, SAI president after training has concluded in the evening and he will cover all aspects of your business, including: 1) Marketing and business development (no, dealers are not the only target clientele!)
Pricing and estimates (varies city to city and area!)
Insurance
Business name
Business literature(business card layouts, etc)
Taxes, records and accounting
Vehicle layout


Paintless Dent Removal Interview
Student Testimonials
PDR Tech Life
Paintless Dent Removal Training Success
Paintless Dent Repair Training Testimonials



One on One PDR Training

Paintless Dent Repair tools

What is Pre-Training?

Finance your PDR Training

Shop Online Now

PDR Training Success

PDR Training Testimonials